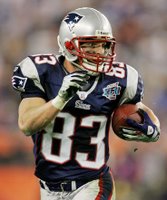 I'm headed to my first Super Bowl. And what an epic one it's shaping up to be. My fellow Wolverine, Tom Brady, will be quarterbacking The New America's Team, the Patriots, toward a historic undefeated season. Back in college, Tom and I would often sit around dreaming of where we would be in five years. Now, here we are, a little off schedule but still on time, headed for a happy reunion after achieving worldly fame and fortune. Admittedly, most of the fame and fortune is on his side but I have had my small successes.

Then again, much like my ability to seemingly always end up on the wrong side of excitement, I'll be attending Super Bowl XLII in a service capacity. It's my version of always the bridesmaid, never the bride. We'll be working the Super Bowl Experience from Thursday till Saturday, and then flying out on Sunday.

So, I'll be watching the game from home, just like you schlups. But oh the fun I'll have in the meantime. You're jealous aren't you? I can totally tell.